Forex Pro Shadow uses the latest and most refined trend prediction technologies. Our transaction opening technique will show you razor-sharp, perfectly accurate signals. Even if it sounds complicated, you will find just how simple and pleasant using this system is in about a moment!
Forex is the biggest market for speculation in the world. It's daily turnover exceeds several billion dollars. Not only the largest banks and financial institutions, but also millions of private investors are engaged in constant battle for additional funds.
The currency market is also considered the most demanding in terms of speculation. The ever-present financial leverage can make someone a millionaire as well as leave him penniless.
The most common mistakes made by investors include: inadequate money management, wrong mental approach as well as improper transactional system.
Next-Gen Trading comes to the rescue, offering the latest trading-assistance software. In a few minutes, you will learn of our transaction system's extraordinary features and all the ways it can facilitate trading, making it accessible, quick and above all profitable.
Forex Shadow is our Next Gen Trading's newest work. The system conjoins several trade techniques which, for user's convenience, have been transformed into easy-to-read signals. The method has been developed so as to enable every user to benefit from it, regardless of their experience, trading style (quick day trading/slow swing trading), or mental approach to trading.
The progressive trend analysis and optimal buy/sell signal calculation mechanism will momentarily change your view of charts. During our system's development, we also gave much thought to the comfort of trading, as well as time necessary to perform analyses. I can go as far as to say we have fulfilled both tasks perfectly, implementing an advanced alert module which will never fail to notify you of a new signal.
Let's check chart examples on several charts below:
AUD/USD on 15 minute chart we can see three potencial sell signals
GBP/USD on hour chart with several long trade signals
AUD/USD on 15 minute chart with great buy long breakout signals
EUR/USD on 4 hour chart with two buy long profitable signals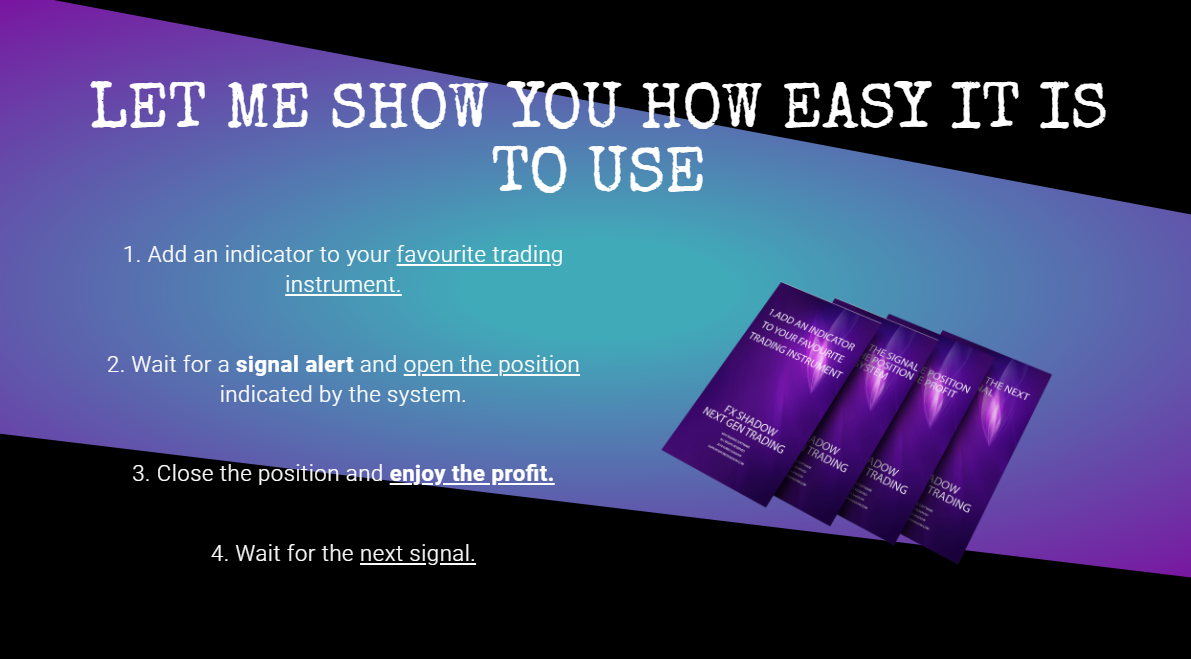 It works perfectly and efficiently on all forex pairs and commodities. So you can choose any trading instrument that you are comfortable with. The system comes with easy signals that appear right on your chart, no matter what forex broker you're using. Everything about the indicator is explained in the user guide that comes with the indicator itself.
The changes in market sentiment are indicated by a change in color of candles. Blue bars indicates a buy market and a red bars means that you should be ready for sell signals. Pro Shadow technology will let you catch as much of this movement as possible!
Our software will let you skip the learning curve and jump right into the action. No thinking, no analyzing, no headaches, just flick through the user manual and you're ready to go.
Let's check few more chart examples below:
EUR/USD on 15 minute chart with sell short and buy long trades
GBP/JPY on 15 minute chart with two sell short and two buy long trades
USD/JPY on 15 minute chart with two sell short trades
Forex Pro Shadow Indicator has…
3 Methods For Alerting You To All The New Trading Opportunities
Forex Pro Shadow Indicator has multiple built-in alert systems that promptly notify you of new trading opportunities within seconds. Each alert gives you the Currency Pair, and the Time frame the signal was generated on.
1. MT4 Platform Pop-up Alert with Sound
This box will pop up from the broker platform on your computer to notify you of a new trading opportunity, so you can take quick action.

2. Instant Email Notification
You can also choose to receive an email alert notifying you.
3. Push Notification to Your Mobile Phone
Finally, if for some reason you didn't notice those notifications because you were not in front of your computer, you can have an automatic notification sent to your mobile phone.
So, do you think you will ever miss a trade opportunity again with all these notification options? Not ever again!
I am 100% confident about this.
Here's what you will get when you join…
Software – You will get a full non-expiring lifetime version of the exact software with the same settings that I used to execute all those winning trades that I just showed you.
This also includes the built-in smart exit technology plus the signal notification system with 3 different options to choose from.
Support – I want to see you thrive at trading. And that's why I will give you my full support for anything at all. Whenever you need help just reach out to me to my personal email address.
Step-by-Step Beginner Friendly User Guide – My beginner friendly user guide will take you step-by-step and show you exactly how to install, setup and profit with the Pro Shadow Trading system (it's really easy).
Updates – And of course updates are included for life, absolutely free. If we find ways to improve Pro Shadow Indicator even further, you will get access to the new updated versions immediately.
HOW TO GAIN ACCESS
Give Me My Copy Of Pro Shadow Indicator!
Okay, now you are 100% ready to gain access to this indicator software.
But you are probably curious to know the price.
Unfortunately, I can't give it away for free. I have staff, designers, programmers and tons of other expenses. It costs me a lot of time and money to develop, design and optimize trading tools like this one.
My team and I are doing everything we can to ensure you get reliable and powerful trading tools that can truly help you be successful in Forex.
But that doesn't mean I'm going to make it unaffordable. I want to make this decision as easy as possible for you. So, I'm going to give you full lifetime access for just $37.
2 Option – Pay with Credit Card
3 Option – Skrill
If you would like to pay through Skrill, log in or create a Skrill account and send $37 to [email protected] with message "For Forex Pro Shadow Indicator" and you will receive indicator download information within 24 hours.
4 Option – Neteller
If you would like to pay through Neteller, log in or create a Neteller account and send $37 to [email protected] with message "For Forex Pro Shadow Indicator" and you will receive indicator download information within 24 hours.
5 Option – Perfect Money
If you would like to pay through Perfect Money, log in or create a Perfect Money account and send $37 to U14173568 with message "For Forex Pro Shadow Indicator" and you will receive indicator download information within 24 hours.
6 Option – Bitcoin